Why Genuine?
Hyundai, KIA and Genesis Genuine parts are the parts that meet the same quality and design requirements as the ones used in the manufacturing of vehicles, and thus they are certified, distributed, and guaranteed by the Hyundai Motor Group.
For the longest time, the counterfeit car spares industry is thriving. People continue to purchase non-genuine spares, disregarding the fact that fake spares not only result in depreciation of car value but also pose a serious threat to their lives.
Since the Genuine Parts are engineered to meet the same standard as Hyundai, KIA and Genesis vehicles, they are durable and safe.
We aim to become the leading company in automotive future technology and ensure a better driving experience for Hyundai, KIA and Genesis vehicle owners.
Genuine Parts are tested under various simulated extreme conditions to ensure
Know more about
Genuine Parts & Accessories
Genuine Parts
Quality Tested
Genuine vs Fake
Activities
Counterfeit Parts
How to Protect Yourself
Common Counterfeit Parts
Counterfeit Alert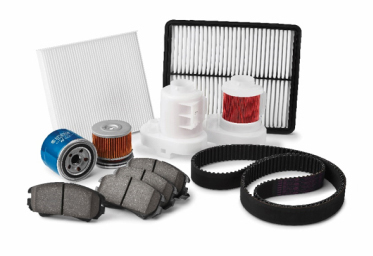 Genuine Parts
Using approved genuine parts for your Hyundai, KIA and Genesis vehicles can help validity of your vehicle's warranty with excellent durability results.
Please visit your nearest authorized Dealership for your genuine parts purchase.
Hyundai Mobis reinforced its commitment to quality management by establishing quality centers to improve global customer satisfaction.
We highly recommend genuine parts for your Hyundai, KIA and Genesis vehicles for a variety of reasons.
The Genuine parts are made to the highest standards and undergo the equal severe testing to meet manufacturer standards that it would in a new vehicle.
All Hyundai, KIA and Genesis Genuine Parts are also tested under various simulated extreme environments to ensure Quality, Reliability and Durability and come with a warranty.
Genuine Parts always prove to be a comprehensive asset for your car and is specifically designed to meet Global Design Rules and Standard.
Genuine Parts
Genuine parts made by different types of fibers, giving superior characteristics and capability such as:
Remains constancy in different weather conditions
Will not suffer excessive wear
Will not suffer from noise problem
Fake and Counterfeit Parts
Low-grade quality counterfeit parts may result in:
Faster wearing and more frequent replacement, hence high maintenance cost eventually
Uneven braking with unsafe brake fade
It may damage your other parts of your vehicle(disc/drum parts)
Using approved genuine parts for your Hyundai, KIA and Genesis vehicles can help validity of your vehicle's warranty with excellent durability result.
Online Training
Offline Trainings
Domestic Parts Seizure
Customs Seizure
Trademark Infringement Warning
Co-Work With Distributor
Genuine Parts Awareness
Online Brand Protection
Genuine parts are certified, distributed and guaranteed by the car manufacturer.
Counterfeit parts
For us, customer safety has the first priority. That's why Hyundai MOBIS consistently takes action against counterfeit products. Because, unlike counterfeit watches or luxury handbags, fake spare parts endanger more than just the brand owner's reputation, but the customers' safety as well.
Risk & Danger
Safety Risks
Fake parts are not made from the same high-quality materials or subject to the same strict quality controls as KIA genuine products, which can lead to health risks for the driver and passengers.
Non-genuine parts wear down faster and can cause car breakdowns or accidents.
Financial Risk
Fake parts which are essential to the proper functioning of the vehicle (clutch discs, brake pads, oil filters) can damage the vehicle and cause costly repairs.
Use of fake parts can result in the loss of cover provided by your vehicle's manufacturer warranty.

Authorized Channel: Always trust your authorized Hyundai/Kia/Genesis dealer or service partner for Hyundai/Kia/Genesis Genuine Parts.
Be careful with dubious products or questionable offers such as very cheap price
Inform the IP Protection team of Mobis Parts Middle East if found any counterfeit products
Some common counterfeit parts found in the market are given. Consumers need to take extra care while purchasing the same from unauthorized shop.


Unreal Discounts: If you buy something at a fraction of the price, or the deal is too good to be true, it usually is. Be careful that you might be purchasing a counterfeit part.
Flimsy Packing: All Hyundai and Kia parts comes with proper unique packing which acts as a protective cover for the part. Any part without proper packing could be a counterfeit.
Flawed Fonts & Logos: Variation in font and improper trademarks and logos on the part or packing is a warning.
Omissions & Mismatch: Hyundai & KIA packing comes with certain specific features like codes, part number, trademark etc. If you have any doubt about the part compare the packing with a genuine packing.